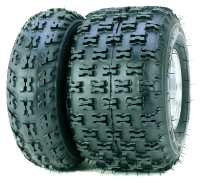 New for 2001 is the Holeshot MX front,
the most high-tech, motocross front
tire ever produced. All-new rubber
compound and tread pattern are
specifically designed for closed-course
racing, and is perfectly matched to the
Holeshot MX rear. In his first year
using the Holeshot MX rear tire, Travis
Spader ended up winning his first AMA
Grand National ATV Champion-ship!
"Half" knobs on the Holeshot MX rear
tire's edge have been removed for
more open tread spacing, resulting in
increased side bite for faster and
more predictable cornering. Softer
rubber compound promotes increased
traction when track conditions become
dry and hard-packed. Holeshot MX
rear is one pound lighter than the
comparable Holeshot model. Sold
each.
$49.99