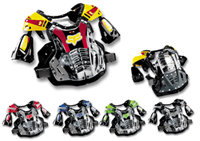 The Airframe was designed to provide
the rider with maximum deflection and
minimum body restriction. This was
accomplished by engineering the
Airframe to ergonomically fit the
shapes of te rider in the "ride
position." An all new Kevlar reinforced
"Torsion Hinge" allows the back panel
to mimic the shape of the rider's back
as you move around on the bike,
while eliminating pull on the front and
shoulder panels. Features such as
these make the Airframe the most
technologically advanced upper body
deflection system ever produced.
Other features include: Ergonomically
shaped deflection panels, Low profile
shoulder cups, Quick-release
adjustable arm guards, Lycra lined
biofoam interior, comfort padding,
Lexan polycarbonate protection
panels, Secure side-release closure
buckles and a fully adjustable front
and rear shoulder connections for
sizing adjustment.
$129.99